Best semi-solutions for iPhone 4 reception problems ... so far
[30-06-2010] - MSNBC
There's no great fix for the iPhone 4 reception issues right now. Here are the best pseudo-solutions so far.
What is going on?
Depending on how you hold your iPhone 4 during calls you may or may not notice your reception drop. Some haven't seen it at all, but many of our reade [...]
iPhone 4: (Almost) everything you need to know about the new Apple iPhone 4
[07-06-2010] - www.iPodPalace.com
The iPhone 4 was announced today during Steve Jobs' keynote at WWDC and the world is taken by storm again.
Its flagship features are, of course, the extremely high resolution screen, video chat capability with FaceTime, and the sexy new form factor. But there's more to the 4 t [...]
Skype 2.0 App for iPhone Enables VoIP Calls over 3G Network - and works with iPod touch too!
[30-05-2010] - www.tiPhones.com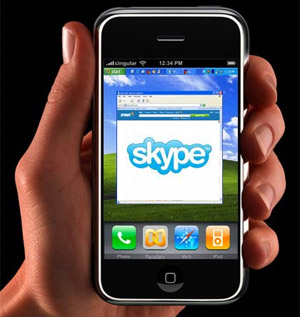 The new version of the official Skype 2.0 for iPhone has been released which now allows you to make VoIP calls on 3G data network. In addition to it, you can call [...]
iPad demand off the charts, and rising, surveys claim
[20-05-2010] - ComputerWorld.com
As Google lays the smack down against Apple at day two of its I/O conference, a series of positive reports show us Apple's runaway success with the iPad.
Apple is currently selling more iPads than Macs every day, recent analysis states -- and is rapidly approaching the same le [...]
Square: a new credit card swiping app for mobile phones
[15-05-2010] - compareandsave.com
A new mobile phone app which allows individuals to make credit card payments has been officially launched.
Retailers can download 'Square' and then plug a small plastic tube into the headphone jack of an iPhone, iPod Touch, iPad or Android phone in order to swipe their cards.
[...]
iPad Camera Connection Kit has hidden USB capabilities
[26-04-2010] - arstechnica.com
The iPad Camera Connection Kit is not only a collection of two dock connector dongles designed to help you get photos onto an iPad from nearly any digital camera. It turns out the kit can also help you connect other USB devices to an iPad, making it that much more useful to those [...]
iPhone OS 4.0 in-depth analysis: who´s targeting Apple with the new OS?
[10-04-2010] - pcmag.com
Apple's iPhone OS 4 may have more than 100 new features, but it established three big targets for Apple: Microsoft, Google and RIM. To some extent, it also showed that Apple considers Palm and Nokia to be irrelevant.
The new OS which Apple announced April 8th has plenty of inn [...]
Five Predictions for iPhone OS 4.0
[07-04-2010] - PCWorld.com
Apple didn't even wait for the iPad dust to settle before summoning the media to its next big event. On Thursday, journalists will gather once again ostensibly to hear about the next-generation of the iPhone operating system, and possibly an unveiling of the next-generation iPhon [...]
Skype iPhone App Is iPad Compatible, but Lacks 3G Calling
[07-04-2010] - eweek.com
Skype released an updated version of its free iPhone app with iPad compatibility on April 6, but the program does not include support for 3G-enabled Skype calls. While a WiFi-only version of the iPad is currently available, a version of the device with both WiFi and 3G will go on [...]
We Rule for iPhone: your personal mobile feudal reign - almost Farmville!
[28-03-2010] - Ngmoco
Let's admit it, we can't look forware for Zynga to release any Farmville sort-of for iPhone & iPod touch.
In the meantime, meet
Ngmoco's
We Rule
for iPhone.
In a nutsh [...]